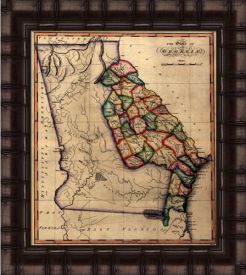 Antique Maps provide great insight into yesteryear. They offer a fascinating view of a geographic area shaped by its prior political division and natural features. Couple this with the movement of populations and you can track the face of our nation as it changed in time. We offer many fine examples of this on our site.
We sell a wide selection of antique and vintage maps from the United States and from around the world. Our maps are sold individually or framed using only high quality archival materials. We have a large selection of antique maps representing various states. We also have a number battlefield maps depicting engagements during the Civil War. Most of our maps were removed from various atlases printed from 1880 thru 1901.
In addition to our original antique maps, we offer local area nautical charts. Antique maps and nautical charts make excellent gifts, suitable for decor in the home or business. If you have a particular map or chart in mind, contact us and we will gladly assist you.