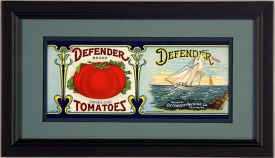 This section consists of can labels. Their art is bold and bursting with color and unique for their place in history. Antique can labels provide an insightful look into the early marketing of products, such as food and other staple necessities.
All of the can labels in this section are original antiques--some printed over 100 years ago. A few are modern labels, used by companies that recently went out of business. Framed can labels make great decor for the home, restaurants, bars, game rooms, kitchens, and as gifts..

We sell both framed with the exclusive use of archival materials and unframed can labels. Iif you have a particular theme in mind, feel free to contact us.
We encourage you to browse our web site and frame a part of history!