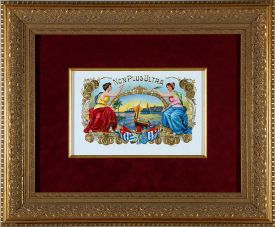 Antique cigar labels represent the pinnacle of artful advertising in the late 1800s and early 1900s. With thousands of brands and factories marketing their cigars, colorful, well designed box labels sought to catch the eye of potential customers. The labels printed in the late 1800s and early 1900s employed large hand engraved stones to press the inks onto the paper. Some of these early labels utilized real gold pressed onto the paper to provide additional flash and glitter. It would take the an artist 6-12 months to make a set of stones for one label to be printed and cost the company at least $6,000.00 back then.
Cigar labels are suitable for both collecting and framing. We have considerable experience framing cigar labels. We treat them as we would any collectable, which means framing them utilizing only archival framing techniques. Framed cigar labels make great executive gifts, decor for the home, the business, for restaurants, for bars, and decor for countless other uses.
We sell both framed and unframed cigar labels. We have a large selection of Cuban cigar labels, some printed in Cuba prior to Castro. These labels are very artful, and in some cases embossed with real gold. If you have a particular theme in mind, contact us with your requests.
We encourage you to browse our web site and frame a piece of history!