Re-Framing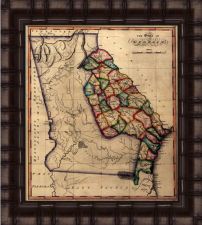 We are often asked to repair a broken frame. The most common source of damage to a frame is a fall from a wall.

The second most common source of damage is from an accident during the moving process. In some cases, we are able to repair the frame. If the damaged frame is of sentimental value, or if it is an irreplaceable classic antique, we offer the service of Frame Gilding. If the frame is too badly damaged for repair, or if gilding is not the option you seek, or if the frame is made of material which does not allow for repairs, you may wish to consider re-framing the artwork in a new custom built frame. Our shop offers a comprehensive custom picture framing service.

A damaged frame is not the only reason to consider re-framing. If your artwork looks "out of place" due to decor changes, let us help. We can re-frame your artwork to meet your changing decor at your home or business.

Another reason to consider re-framing involves the manner in which your original artwork was framed, or if the monetary value of the artwork has increased, or if its sentimental valuable to you since the original framing was preformed has increased. Over the years, people have brought in original artwork, limited edition prints, and family keepsakes, and photographs that were not originally framed employing conservation framing techniques. Over the years, the value of the art has gone up. As a result, we have suggested re-framing the artwork with conservation methods to help protect the artwork against premature damage from the harmful effects of Ultraviolet light, from "regular" mats and backing that may result in acid burn to the artwork. For more information on conservation framing, please view or section on conservation framing.

We encourage you to browse the links on our site on the left and the menus above to learn more about the services and products we offer.

If you have additional questions about repairing or replacing your frame, please contact us.