Custom Framed Diploma Products We Offer
Overview of Custom Framed Diploma Products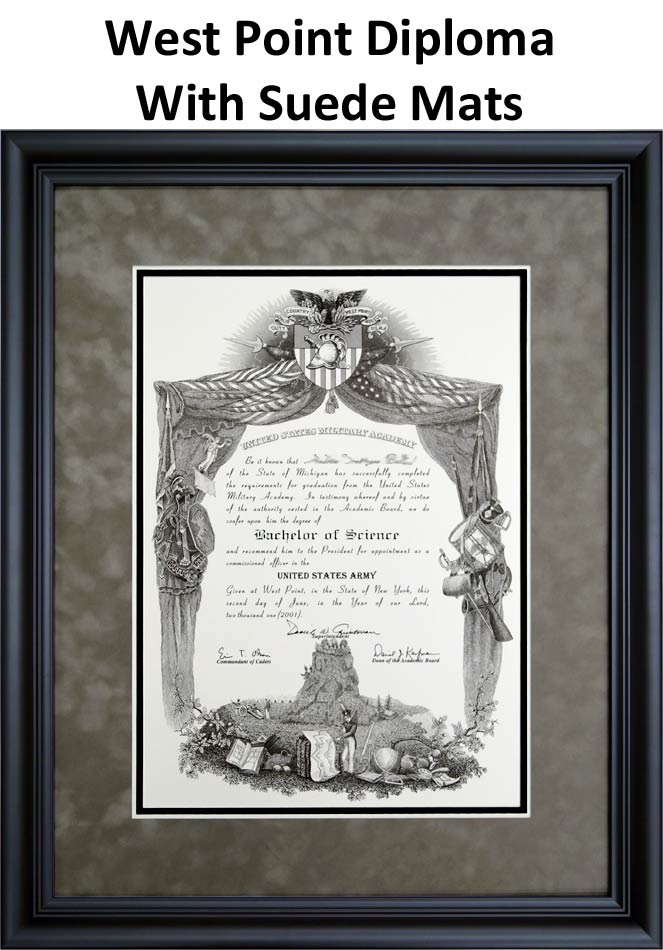 Custom framing diplomas is a specialized product service we offer. A diploma from an institution of higher learning, from a vocational school, or from a military academy, or a military course deserves recognition. Diplomas are the physical sign that vindicates hard work, aptitude, fortitude, knowledge, and the understanding of complex and multiple disciplines. Diplomas are one of life's essential achievements that need to be recognized and put on display using conservation framing. We frame a lot of diplomas from a variety of instructions across the country and from military academies.
The West Point diploma on the left is an excellent example of a simple design for a military academy. The frame design uses grey suede mats for a rich look. The suede mats also match the tonal quality of the antique lithograph print on the diploma.
Design Options for Diploma Framing
When framing a diploma, there is simple question that comes to mind: Do you prefer a simple diploma frame, or do you prefer an ornate diploma frame design?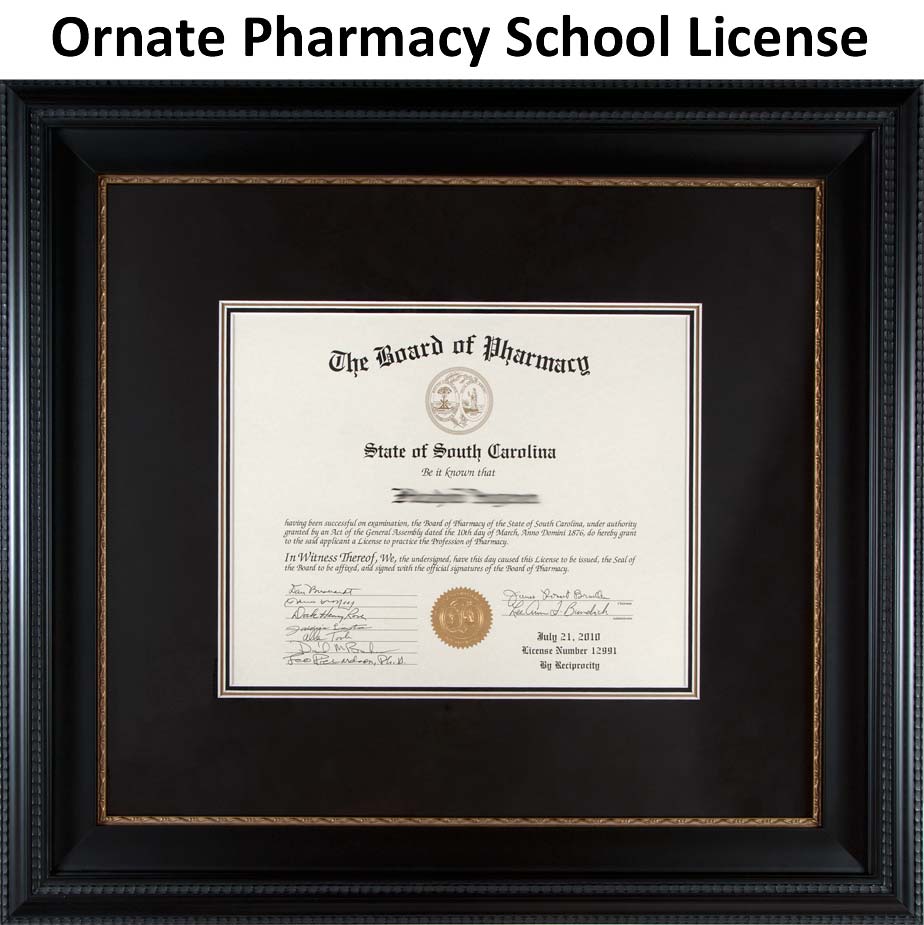 A simple diploma frame may basically involve mats and a non-descript, contemporary black or mahogany tone frame. An ornate diploma frame may take on the complexity of a small shadowbox with intricate frame embellishments. One of the ornate diploma framing options available involves the use of fillets. Fillets are narrow, miniature frames placed inside the mat openings or at the inner edge of the frame where it meets the mats. A fillet's purpose is to complement the larger exterior frame. The framed Pharmacy license on the right is an example of a fillet used to enhance the overall look of the frame. This example also uses "stacked" frames. Stacking frames means that we build one frame on top of another frame to create an ornate design that results in a larger frame..
Ornate diploma frames often take on the appearance of shadowboxes. This occurs because the frame will have deep sides, and it will have multiple mat openings, and sometimes it will have unique cut mat designs to accommodate objects with the diploma. Generally, the shadowbox's design for a diploma frame will include the graduate's cap tassels, school coins, a school logo, mascot, or other school memorabilia. Sometimes, the diploma case's cover is framed with the diploma in a separate mat opening. When the diploma is framed with the diploma case, they are generally framed vertically.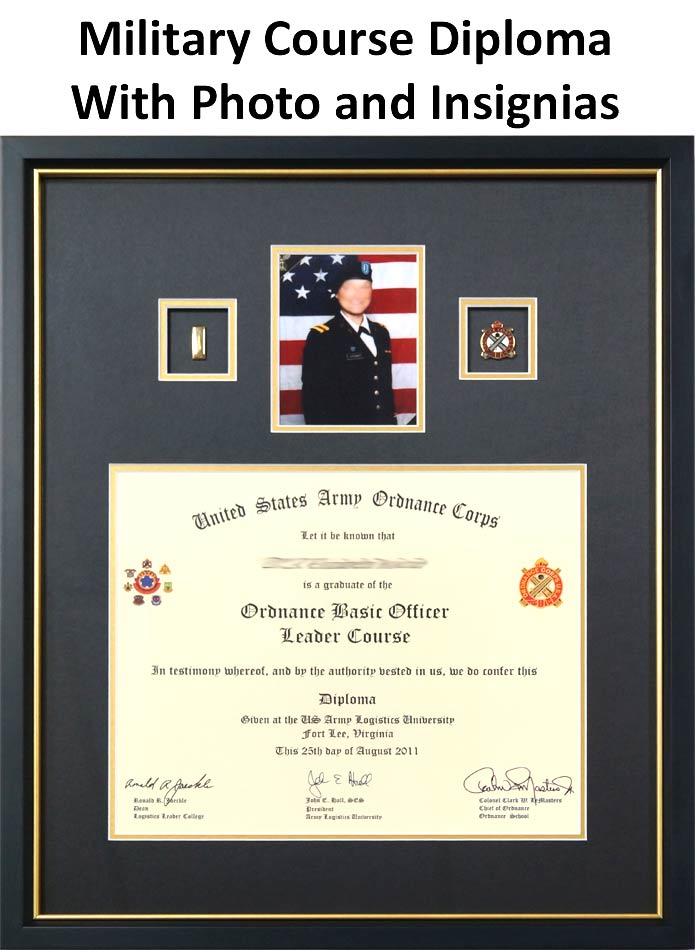 Other framing options include placing a graduation photograph with the diploma. Also photographs commemorating the graduation event may be included with the diploma. For example, a family photo under the Arches in Athens, with a UGA diploma is sometimes used. Graduates from military academies sometimes choose to have their picture receiving their diploma placed in the frame. Photos of the actual school are also options for inclusion in the diploma frame. The example on the left illustrates an individual's photo framed with a military course diploma, a rank pin, and a unit insignia. Many military course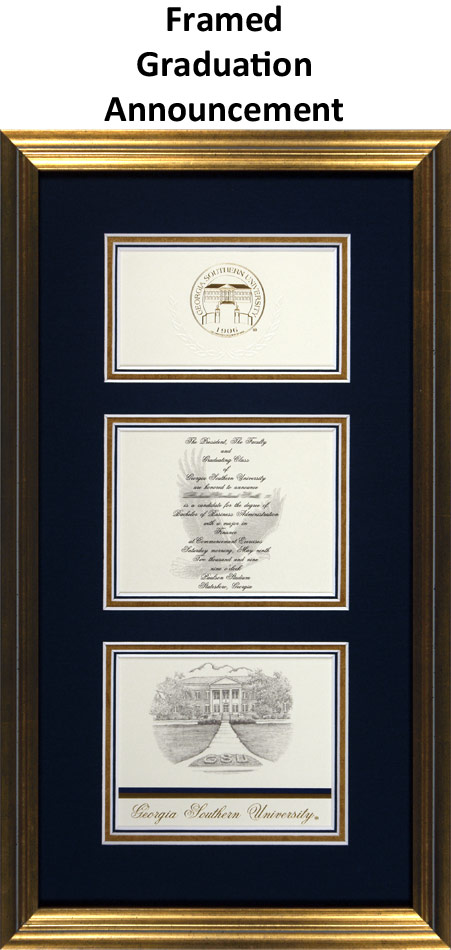 graduates select this option or the option to have a course group photo included. In this case, we have withheld the identity of the graduate.
In addition to framing diplomas, items related to the graduation ceremony are framed. Parents and friends of the graduate frequently frame graduation announcements. The framed graduation announcement or invitation may require multiple openings for the images on the announcement, and they are usually framed vertically. Framed graduation announcements are typically presented to either the parents or to the graduate as a gift. For ornate diploma framing, suede mats work very well in the overall design. Suede mats have a felt-like texture or cloth appearance. They are very rich looking and add depth with dimension to the framed announcement. The framed graduation announcement on the right is a classic example of what we frequently frame. It is double matted, with a top suede mat. A simple gold frame complements the announcement.
The subject matter for diplomas we have framed varies from US Army Ranger diplomas to West Point diplomas. We have also framed degrees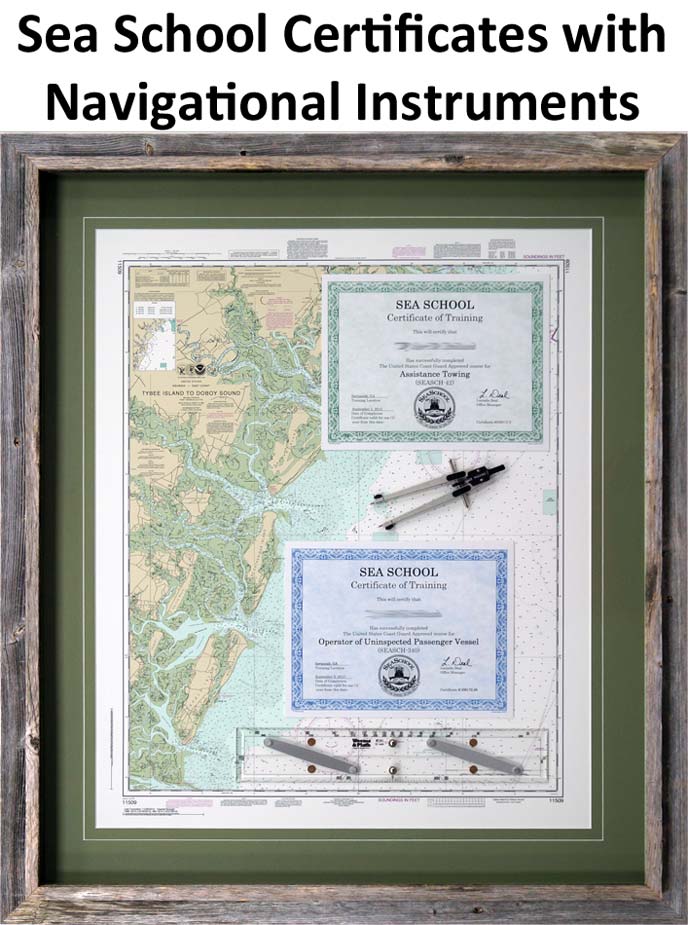 ranging from a Bachelor's degree to Doctorates of Pharmacy and Medical diplomas. We have created shadowboxes for a nautical captain's school certifacates with navigational instruments and charts. We have created a diploma frame to hold an Ohio buckeye with the diploma. Specialty schools for accountants and law disciplines offer the opportunity to select either ornate or simple diploma framing for their diploma.
The framed Sea School set of captain's certificates on the left provides a great example of the flexibility for framing objects with diplomas, certificates, licenses, and permits. A nautical chart was used instead of a mat. The navigational instruments and the authentic rustic barn wood frame provide the ideal design for both the certificates and for nautical decor.
Discount Diploma Framing Is Not A Bargain
Before going into detail about the quality we put into diploma framing, we need to issue a brief caution about diploma framing. Cheap, discount framers may damage or destroy your diploma if it is framed improperly. For example, placing a sheep skin diploma in hot drymount press to flatten it will ruin the diploma! Cheap framers often use masking tapes and cellophane tapes that will not release from the diploma, causing damage. Certain tapes will also off-gas. Off-gassing is the release of chemicals from the tape that has the potential to damage the diploma.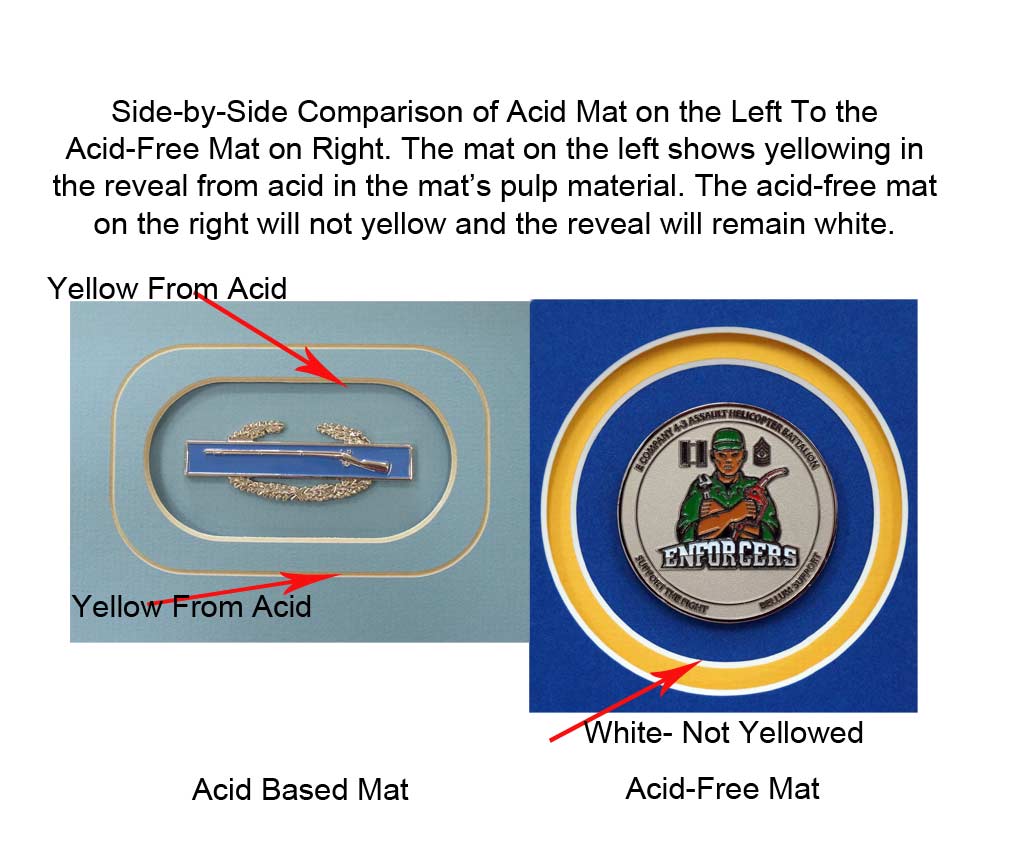 Bad mats are the curse of death for cherished heirlooms and important documents. A great example of this is illustrated by the comparison of an acid mat vs an acid free mat on the right. Please click on the photo comparison to see the actual mat burns and yellowing.
In addition, cheap discount picture framers will use acid mats and non-UV protective glass because it cost less. Cheap mats contain acid. Acid in the mats will turn your diploma brown from acid burns with time. By skimping and not using UV protective glass,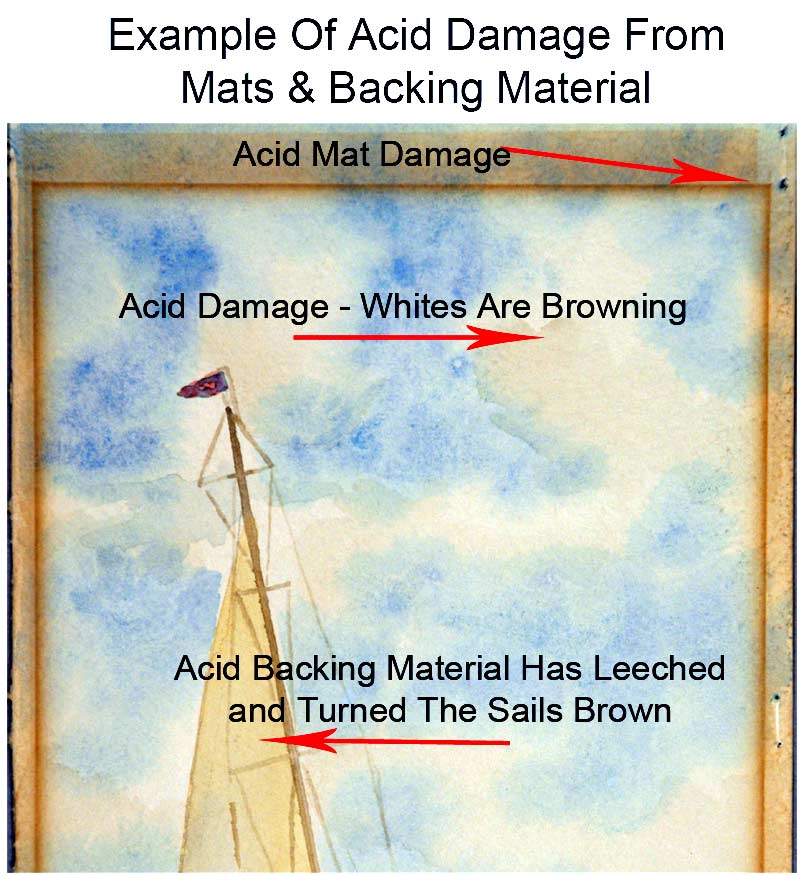 damage will occur. The mats and the diploma will fade in a very short time. The white bevels in the mat cut will soon turn brown as the image on the right shows. In addition to fading, the mats will change colors with time. A classic example of framing that did not use acid-free mats or UV protective glass is the cutaway image of the sailboat. Acid from the mats and its backing material have browned the whites, and lack of UV protection has faded the mats.
If you framed your diploma with mats to match your original school colors, cheap framing will disappoint you. The mats' colors won't last behind unprotected UV glass. The damage to the mats and to the diploma is cumulative and not reversible. We believe so strongly in avoiding this, that we keep examples of these mats in our shop. They were removed from bad frame jobs to illustrate the point—bad, cheap framing will cost you more money and embarrassment in long run. Throughout the years, your education was expensive. It only makes sense to preserve the diploma that cost you both time and money to achieve with quality diploma framing.
Quality diploma frames are truly worth the investment. Framed diplomas are usually displayed in a professional work environment, such as on an office wall or in a waiting room. When displayed, you would be surprised to see how many people actually look to see when and where the graduate received their degree, and what type degree was obtained. With this in mind, it makes sense to present the diploma in a professionally framed quality design that makes a statement about the graduate and the knowledge they have acquired with their degree.
Quality Diploma Framing Practices
Diploma framing requires the highest standards for preservation and quality. As mentioned above, a hot drymount press can ruin a sheep skin diploma. To avoid damaging your diploma, all of our mounting practices are archival-quality and reversible. "Reversible" means the diploma can be removed from the mount at a later date if necessary. The mats we use are all acid-free to prevent damage to the diploma. If a wood frame is selected, we wrap the frame's rabbet to provide a barrier that prevents acid migration from the wood onto the mats and to the diploma. In addition, no materials are used in the frame that will off-gas and damage the diploma.
We don't use masking or cellophane tape to secure your diploma to the mats. Each diploma is framed with the highest regard for quality, using acid-free materials and 99% UV protected glass or acrylic. All framed diplomas undergo strict quality checks to insure the completed project is not only visually outstanding, but fulfills your custom design requirements. We know the diploma reflects your profession and we want to make sure its visual appearance is a positive reflection upon you.
Typical Diploma Frame Design Layout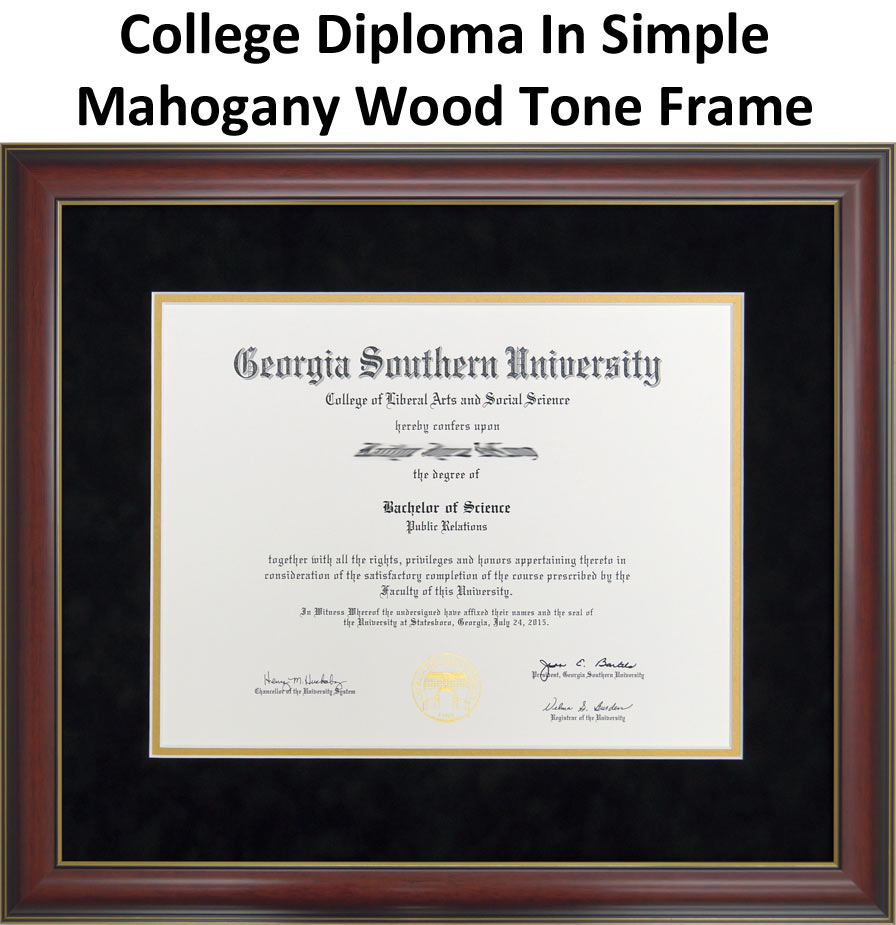 Framing a diploma offers many possible mat openings, mat color combinations, and glass choices. Mats that are often selected for framing diplomas generally include suede mats or linen mats. These have a cloth texture, and they add depth and dimension, as well as complement the texture of the diploma. If the diploma is framed without additional items, it is usually double matted in a frame. The sides and the top mat borders will be equal in size, but the bottom mat border will be a fraction of an inch larger to provide depth. Some graduates select their school colors for the mat design. Other options include mat colors that match the diploma's colors. The example on the left offers a simple framing design option. It is a wood mahogany tone frame with gold tone edges. The diploma is double matted, with a top suede mat. Although this is a simple diploma design, it is elegant and suitable for any professional environment.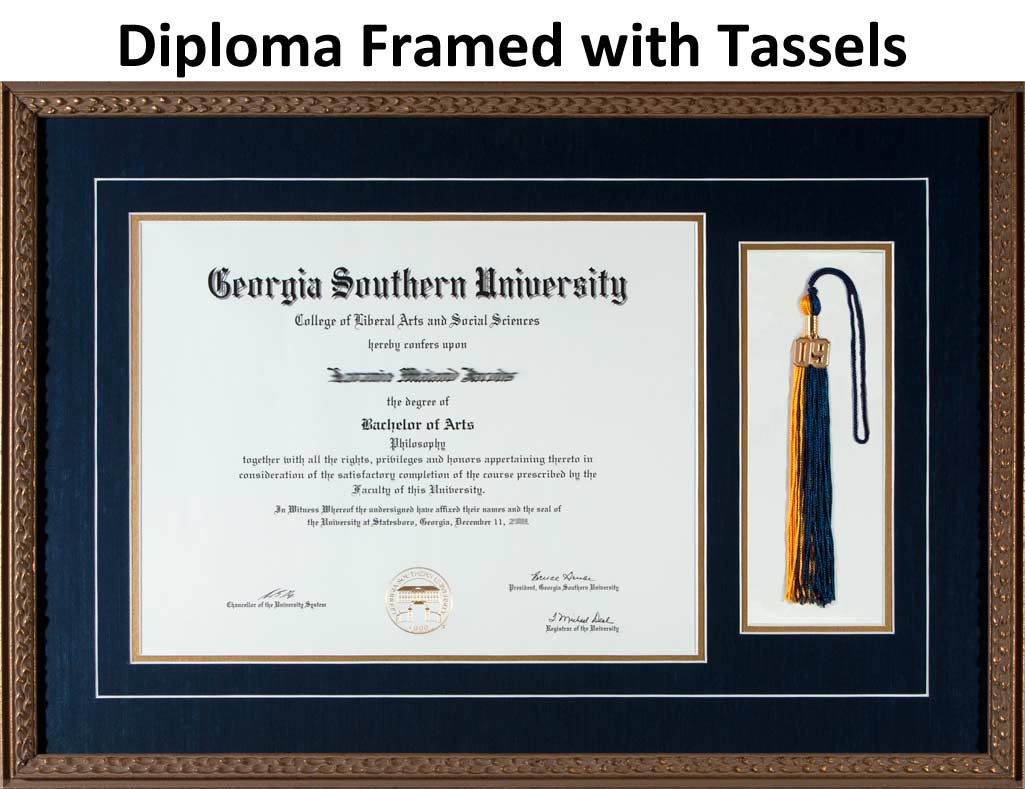 If items are used to create a shadowbox, the design changes slightly. Generally the diploma is placed inside mat openings on the left side and the tassels or other objects are placed inside mat openings on the right side. Framing a college diploma with tassels provides additional character. An example of a Georgia Southern University diploma frame design that includes tassels is illustrated on the right.
If a diploma is framed with a diploma case cover, the diploma is placed inside mat openings at the top, and the case cover is placed in mat openings beneath the diploma. Framing a diploma offers many possibilities for moulding selection. Blacks, golds, dark mahogany tones, and silvers are popular frame color choices. Often, gold or silver fillets are placed around the diploma to provide additional depth and richness. Classic ornate frame patters are also popular with wide picture frame moulding.
The choices for a diploma frame's glass also need to be considered. We only frame with 99% UV protective glass. The glass selection for most people has been narrowed down to two choices: Tru Vue Conservation Clear® Glass and Tru Vue Museum Glass®. Both provide the 99% UV protection we discussed earlier. The main difference is in the clarity of the glass. Tru Vue Conservation Clear® Glass is the industry standard for conservation framing. The Tru Vue Museum Glass® is a significantly superior transmitter of light and reflection control. The Tru Vue Museum Glass® is nearly invisible when placed into a frame. This extraordinary benefit comes with a slightly higher price than the Tru Vue Conservation Clear® Glass. But there is a huge difference in the viewing results with the superior Tru Vue Museum Glass®.
Turnaround Time For Framed Diplomas
The turnaround time for diploma framing is about 4 weeks. From a simple diploma frame design to a complex diploma frame incorporating multiple items into the design, we allow plenty of time to complete the project. The reason we require ample time for diploma framing is in the event a frame or mats shipped to us are damaged in route and need to be replaced. Also, it takes time to design, layout, and attach objects inside the diploma frame using conservation-grade framing procedures. Even though a simple diploma frame may appear to require very little work, there is a lot required to ensure the diploma is protected and the design meets your expectations.
Diploma Frame Prices
Framed diploma prices cover a wide price range depending on whether the diploma is framed by itself or with other items. Mat styles also influence diploma framing prices. Acid-free paper mats are less expensive than acid-free linen and suede mats. However, the linen and suede provide so much more in eye appeal to the completed piece. If fillets are added to the frame, or if frames are stacked, there is a slight increase in price. The moulding's width and style is an additional pricing factor. The overall size of the completed frame is another pricing factor. If a shadowbox is created and items added, the design gets a little more complicated, and thus a little more expensive. The choice of glass also influences the final price.
A nicely framed simple diploma design starts out at about $225.00 and can go up to $600.00 or more depending on the different framing elements selected. However, the expensive frames really do look very nice and when combined with your diploma, they make a statement about you and your school.
Framed Diploma Shipping and Taxes
Diploma frame prices do not include shipping or taxes. Shipping is available to the lower 48 states using FedEx ground. The framed diplomas that we ship include 99% UV protective acrylic instead of glass to prevent breakage during shipment. The largest diploma frame we will ship must fit inside largest flat art box that FedEx offers. Oversize framed diplomas must be picked up at our shop.
We offer quality diploma framing with conservation grade materials that will prolong the life of the items framed. We are not the cheapest diploma framers because we refuse to substitute inferior materials just to make a sale. We respect our civilian and military clients for they have accomplished, and we make every effort to ensure the longevity of their framed items for generations to come.
If you live in Bryan, Chatham, Liberty, McIntosh County, or you are stationed at Fort Stewart in Hinesville or Hunter Army Airfield in Savannah, we are located nearby at 10070 Ford Avenue, Richmond Hill, GA, 31324. If you have questions about diploma pricing or diploma designs, please feel free to contact us by phone at 912-756-2781 or by email at cindysframing@coastalnow.net