Our Philosophy
Philosophy Is Based Quality and Customer Satisfaction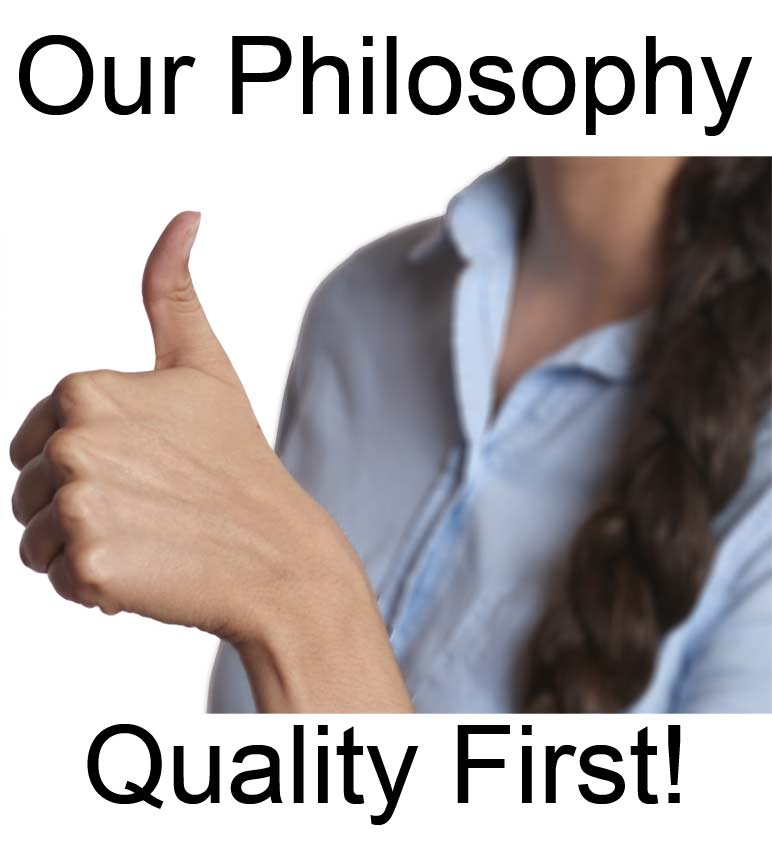 When we first started our business, creating satisfied customers by providing quality picture framing was our priority. The technical aspects and the design skills to be proficient in order to create esthetically appealing picture framing designs did not happen overnight. We attended tradeshows and classes on conservation framing, design concepts, and equipment usage. Basically, we learned the tools of the trade from a business aspect to creative designing. In order to provide quality products and services, it's important for us to know as much about the business of conservation framing as possible. This knowledge benefits our customers. Fortunately, we not only acquired the technical expertise of conservation framing, but we also developed some unique and appealing designs. The designs for shadowboxes and for framed art have evolved project by project. We view each project as a unique and challenging opportunity to provide our customers with something they will enjoy for a lifetime.
Combining Designs With The Right Materials
Combining creative designs with conservation framing materials and methods is at the center of our philosophy. There's an old cliche that states, "Quality never goes out of style." That's exactly the way we feel. We strive to make our customers happy. It's done by providing them with the highest level of quality and service. Nothing leaves our shop without us checking and rechecking it.
An Education In Picture Framing Quality
The average person who walks into our shop has no idea about benefits of conservation framing, or the perils of not using conservation framing techniques. Typically, our first-time customers and prospective customers receive an overview of how conservation framing works to their benefit. We make educating our customers a part of our service. The other part of our service involves taking the time to explain how we intend to frame their artwork. We explain the materials we intend to use in order to provide them with both quality and appeal in the finished product.
Our Uncompromising Position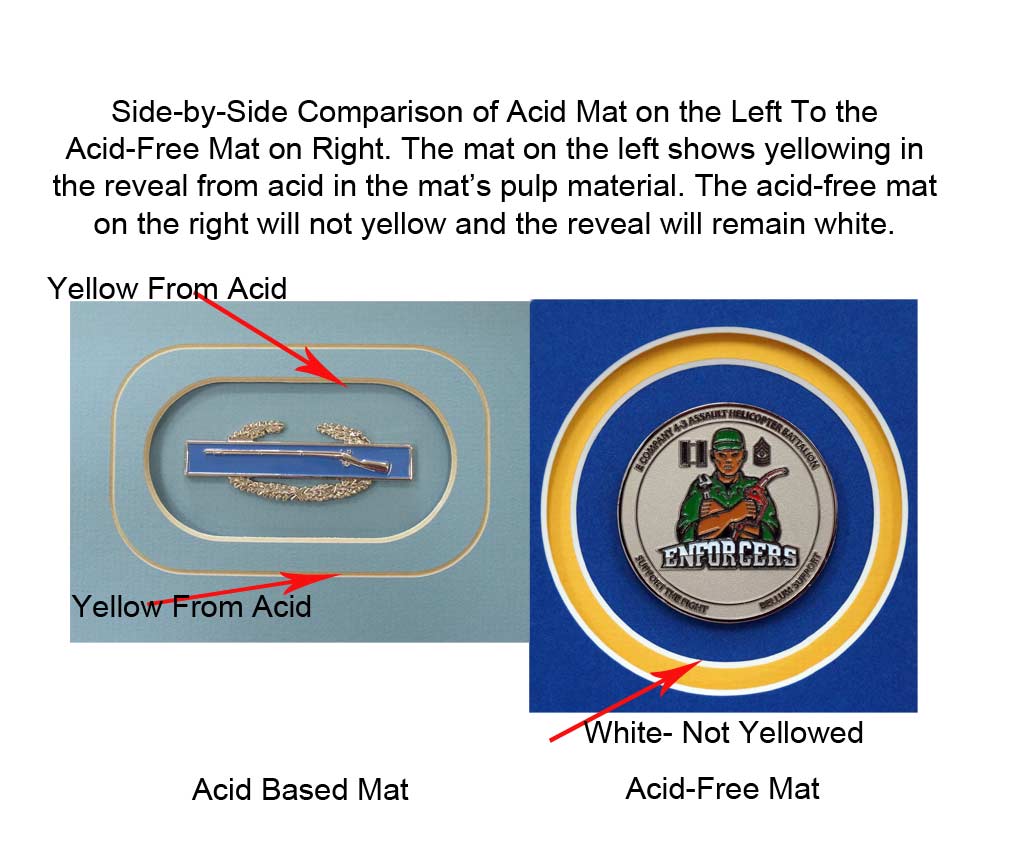 We refuse to compromise quality by substituting inferior materials in order to cut costs. We are not a discount picture framer who uses inferior materials just to get your business. This is especially true with cheap mats. The example on the right shows the results of cheap mats vs good mats. Discount picture framers do not have a good track record of longevity with respect to the life of their framed art. One example of this involves the frame's glass. Discount framers are known to use regular glass, which is a little bit cheaper than UV protective glass. Regular glass will permit the items framed to fade in a short time.
All artwork framed by us utilizes 99% UV-elimination glazing. We don't even stock regular glass or acrylic. Discount picture framers will use cheap mats that are not acid-free. Not, us: we only use acid-free materials, along with conservation framing techniques. Time and experience are great teachers. Throughout our business years, we have seen too many items brought in for us to repair. These items were discolored because: the wrong mats, regular glass, or masking tapes were used to affix the artwork in place. We do not view using any of those items as ethical. Most importantly, we have seen the damaging results of sunlight fade valuable art. Sunlight damage is cumulative and irreversible. The really sad part is, these damages were avoidable. These damages happened because inexpensive glass and inferior mats on artwork were selected. The first telltale sign of bad mats is yellowing. Yellowing of the mat's reveal is an ominous indicator that the art and mats are in jeopardy of being damaged.
We Custom Frame For Longevity
Our philosophy is not based on short term objectives. Many businesses have short term, quarterly financial goals. We take a different approach. We are in this for the long haul. It's also our philosophy that artwork should be around for our clients to enjoy for a lifetime. That is the reason we will spend time with you developing a design for framed objects that has aesthetic appeal, but does not overwhelm the artwork, while protecting the art against premature aging. Our goal is to compliment the artwork, not overwhelm it.
We listen to what you have to say. Impute is critical for the design process. So is the need for framing materials that will not damage the items you wish to have framed. We invite you to stop by our shop at 10070 Ford Ave., Richmond Hill, GA 31324 to view examples of our completed work and examples of art and mats damaged by improper picture framing techniques and materials. If you have any questions, please feel free to contact us at 912-756-2781 or by email at cindysframing@coastalnow.net