Our Philosophy
There's an old cliche that states, "Quality never goes out of style." That's exactly the way we feel. We strive to make our customers happy, providing them with the highest level of quality and service. Nothing leaves our shop without us checking and rechecking it.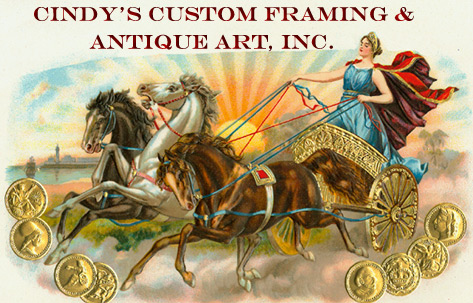 A part of our service involves taking the time to explain how we intend to frame your artwork, and explain the material we intend to use in order to provide both quality and appeal in the finished product. We refuse to compromise quality by substituting inferior materials in order to cut costs. All artwork framed by us utilizes UV-elimination glazing and acid free materials along with conservation framing techniques. Over the years we have seen too many items brought in for us to repair that are discolored because the wrong mats, regular glass, or masking tapes were used to affix the artwork in place. We have seen the result of sunlight, inexpensive glass and inferior mats on artwork, yellowing and fading the art. (See our Art Gone Bad section for a few examples).
It's also our philosophy that artwork should be around for our clients to enjoy for a lifetime. That is the reason we will spend time with you developing a design for a framed object that has aesthetic appeal, but does not overwhelm the artwork, while protecting the art against premature aging. Our goal is to compliment the artwork--not overwhelm it.
We listen to what you have to say.
We have a number of products available for sale. Go to the products section and see the wide selection of art to purchase.