Frame Replacement
Reframing Art and Shadowboxes
There are a number of reasons our clients will ask us to reframe art and shadowboxes. Primarily, reframing is done because of damage to the frame, because of poor framing practices performed by a previous framer, or a change of in client's taste for art and its presentation. Basically reframing can include frame replacement, glass replacement, or mat replacement. Reframing may involve any one single item or a combination of all three items.
Replacing A Damaged Frame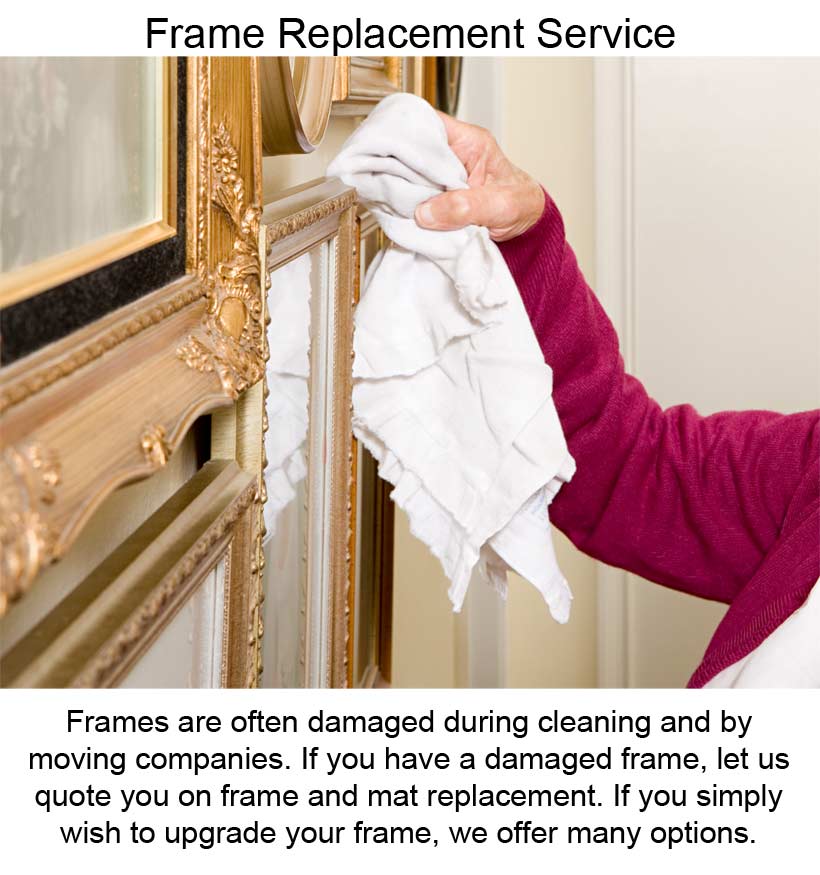 We are often asked to repair a broken frame. The most common source of damage to a frame is a fall from a wall. The second most common source of damage is from an accident during the moving process. In most cases of a damaged frame, frame replacement is the best option. A lot of the damaged frames that we see were constructed of plastic or from composition board. In some cases humidity from a bathroom has caused the composition board to expand and soften. This permits the fasteners to work themselves out, and the frame to fall apart! This type of damage cannot be repaired. Inexpensive plastic frames that become damaged from a fall are also impossible to repair. In most cases the frame needs to be replaced.
Additional Reasons for Reframing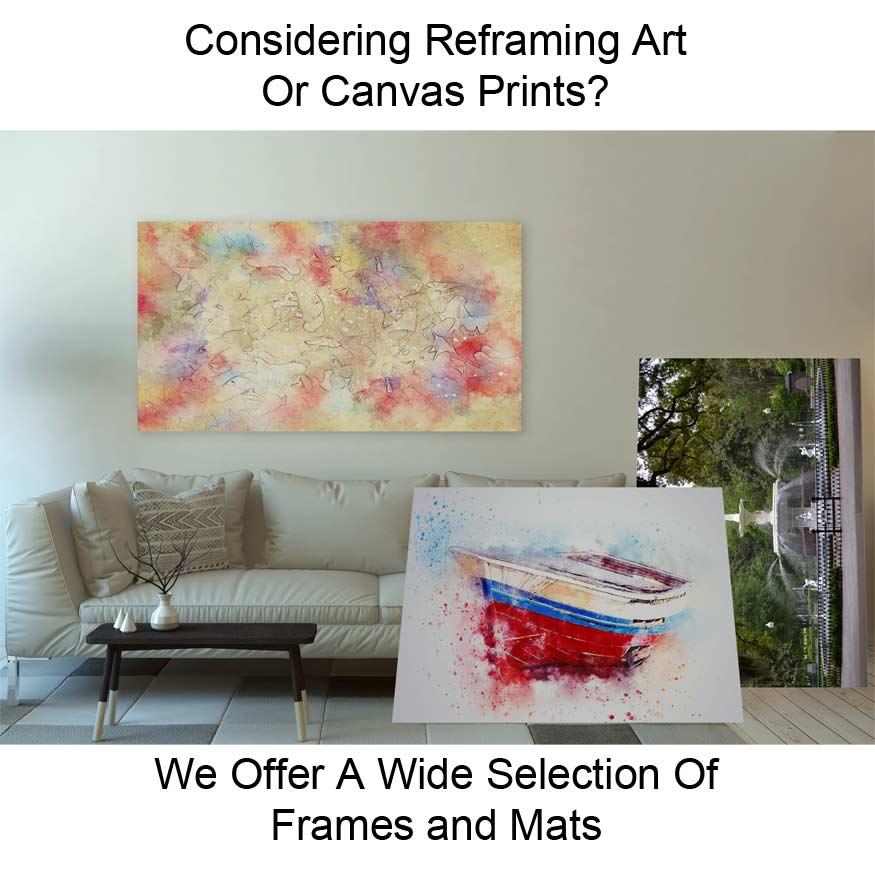 A damaged frame is not the only reason to consider reframing. Often, people feel their wall décor has become "dated". If you feel that your artwork looks "out of place" due to decor changes, we can help. We can reframe artwork to meet the changes in the decor at your home, office, or business. Often, a new frame in different style will make the artwork look distinctively different. This is often the case when the room has been refurnished or repainted.
Previous Poor Picture Framing Practices
Previously poorly framed art is also a source for concern that often requires reframing. As mentioned in other sections of this website, not all picture framers practice conservation framing. Another reason to consider reframing involves the manner in which your original artwork was framed. Also, you may wish to consider whether the monetary value of the artwork has increased. An increase in the art's sentimental valuable also needs to be considered.
Over the years, people have brought in original artwork, limited edition prints, family keepsakes, and photographs that were not originally conservation framed. With time, the value of their items may have gone up, but since they were poorly framed, they risked early deterioration from bad framing practices. To minimize damage to their art, we have suggested reframing their artwork with conservation materials and methods. The use of conservation framing will protect the artwork against premature damage from the harmful effects of Ultraviolet light. Conservation framing will also involve the replacement of "regular" mats and backing. This will prevent further damage from acid burn to the artwork.
Mat Replacement
As mentioned earlier, regular mats offer no protection against damage from acid. Mats play a very important role in archival or conservation picture framing. In addition to adding color, the mat is designed to separate the artwork from the glass. The purpose for separating the artwork from the glass is because condensation can develop, due to humidity in the air. This humidity may transfer to the photograph or other artwork. Once this happens, there is the possibility that damage to the photograph or artwork may result from mold or mildew. In addition to the dangers of mold and mildew, there is the possibility that moisture will cause the artwork to stick to the glass. We have all seen the effects of a photograph sticking to the glass, and then the damage to the photograph that often results when the photograph is pulled away from the glass. Pastels and chalk drawings will easily smudge when touched. For this reason, they should be matted to avoid the art from directly contacting the glass.
Chances are, if you had something custom framed prior to the mid-1990s, it was done before acid-free mats were widely used. In some cases, even today, picture framers do not offer acid-free mats to their clients. We consider the use of acid-free mats an essential element in the conservation framing process. The reason for using acid-free mats has to do with the protection they offer. Older mats, that are not acid-free, can cause what is referred to as "mat burn". These are brown marks that slowly make their way from the mat onto the actual artwork. The damage will intensify with time. If you are concerned about the prospect of your artwork prematurely aging, come see us. We will gladly evaluate your artwork and determine whether acid-free mats were incorporated into your framing. If necessary, we will recommend mat replacement.
Replacing Glass That Does Not Offer UV Protection
Years ago, UV protective glass was not available to picture framers. This brings up another consideration for reframing. If art was framed decades ago, UV light may be damaging the art and the mats. In some cases, we have had clients bring us art with faded mats, mats that were exposed to direct light containing harmful UV rays. (Ultraviolet Light is what fades your carpet, drapes, and the upholstery in your car.) As a result of the UV light's effects, the faded mats have diminished the beauty of the artwork they surround.
As mentioned earlier, sometimes accidents happen to picture frames or you may desire new mats and glass replacement. We will be glad to answer any questions you may have about your art's condition with respect to possible damage. Our shop offers a wide selection of picture framing options. We are Cindy's Custom Framing & Antique Art Inc., and we are located in 10070 Ford Ave., Richmond Hill, GA 31324. Our phone number is, 912-756-2781. If you have damaged art, we invite you to bring it by our shop for an evaluation.