Paper and Canvas Print Information
Photo Printing Upload Services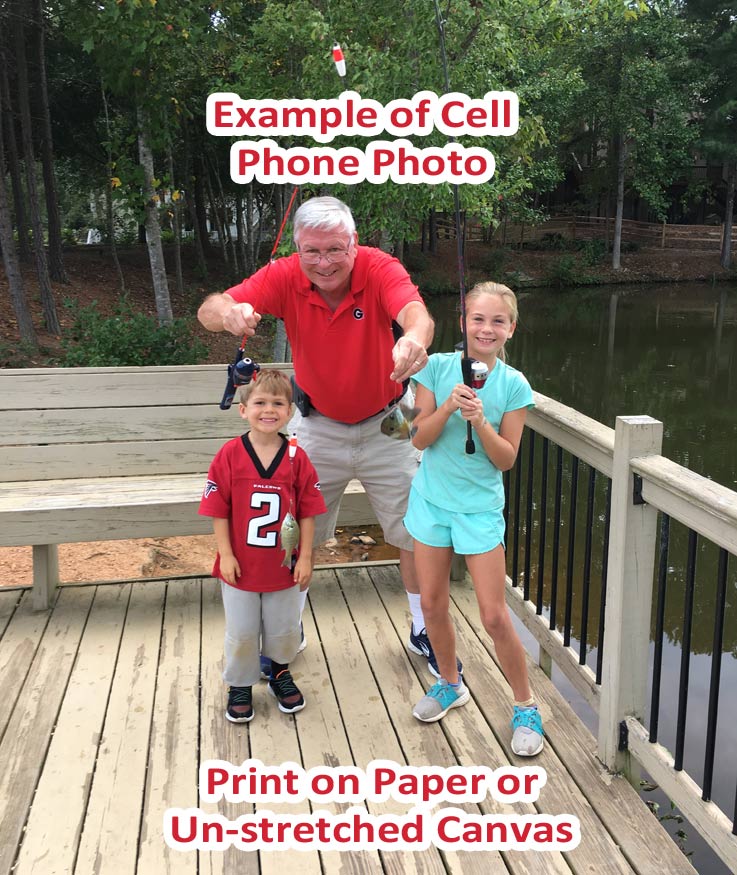 We offer a number of photo printing services. The upload and print option for wrapped canvas prints is our most popular option. However, there are additional services we offer for quality digital image reproductions. In particular, we offer printing on paper and on un-stretched canvas. Our photo paper and canvas printing service offers a number of standard print sizes. The upload/printing option allows you to crop, or select, vertical or horizontal images from your upload file. An established minimum pre-set resolution for high quality has been programed into this option. This assures you that you will not upload and print an image that appears inferior due to low image resolution.
Luster Printing
We offer two types of printing papers and a canvas media print. Our papers are semi-gloss (Luster) paper and a Matte paper. The Luster is very popular among wedding photographers and for general purpose printing that requires color depth. Some of the subject matter that prints well with Luster are landscapes, seascapes, sunrise/sunsets, portraits, pets, outdoor scenes, coastal themes, and more.
Matte Finish
The alternative to Luster prints is our Matte finish. The Matte finish is a bit more subdued. Matte is well suited for subdued colors, for maps, nautical charts, and printed materials. All papers are archival grade and are complemented with archival-grade inks.
Canvas Prints
Simple canvas printing does not involve a wrap or a stretcher bar. The canvas print material is the same canvas shown throughout this site in a number of examples. It is museum – artist quality canvas. Archival inks with UV protection are used to create the images you photograph. The canvas print is rolled – not mounted or wrapped for this option. We have a number of examples of prints on canvas in our shop if you would like to view them in person.
If you desire additional services beyond the printing, we offer some great options for displaying your prints. Our paper and canvas prints can be mounted for an additional charge. If framing is a consideration, we offer a wide selection of mat and frame options. All framing utilizes conservation framing techniques and materials to ensure the longevity of the framed artwork. For framing prints, we only use 99% UV protective glazing.
Our processing time for paper prints is 3 business days. For un-stretched, rolled canvas prints, the process time is about 2 weeks. We do not ship. All orders must be picked up in the shop.
If you have questions about making an enlargement, feel free to contact us by phone at 912-756-2781. We are located at 10070 Ford Avenue, Richmond Hill, GA 31324. Our email address is cindysframing@coastalnow.net