Completed Examples Of Art Framed In Our Shop
Examples of Completed Works
Over the years, we assembled an impressive portfolio of completed framed projects. Some of the items we have framed range from simple wedding portraits to complex military shadowboxes. Some of the items we have framed include car license plates to an army helmet used as a movie prop in Saving Private Ryan. Each of our completed projects was done using conservation picture framing techniques, to prolong the life of the framed art or mementos. For your convenience, we have included created subdivisions of completed examples of our works. They are divided into general subject matter. The selected examples of completed framing jobs demonstrate the diversity of the items we frame. The examples that follow range from military items in shadow boxes, to children's art, to much more. In other sections of our site you will find examples of framed military guidons, battalion colors, framed flags, complex shadowboxes, needle art, and more. If you have questions about custom framing, or have an object you are considering framing, contact us. We are located at 10070 Ford Avenue, Richmond Hill, Ga. 31324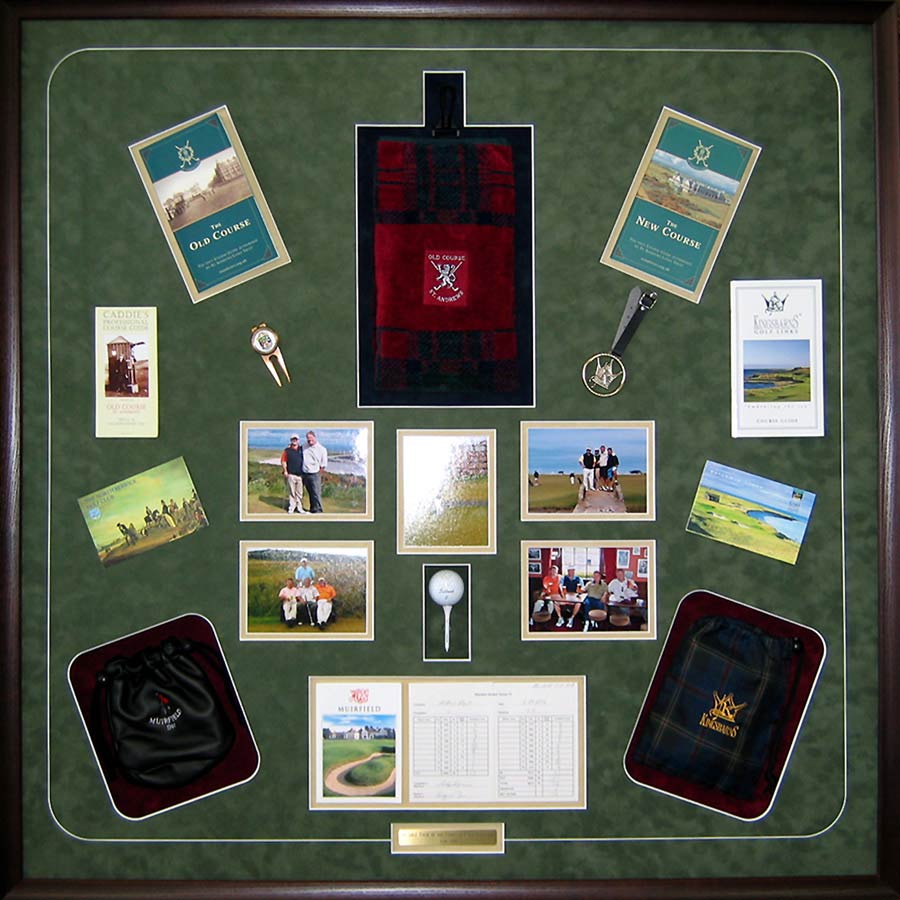 On the left is an example of a completed shadowbox. We frame various objects to suit our customer's needs. In this case, we have included golfing items from a match that includes, a ball, tee, scorecard, and more. If you have any questions about shadow boxes, we invite you to contact us regarding prices and the feasibility of a shadowbox for hour items.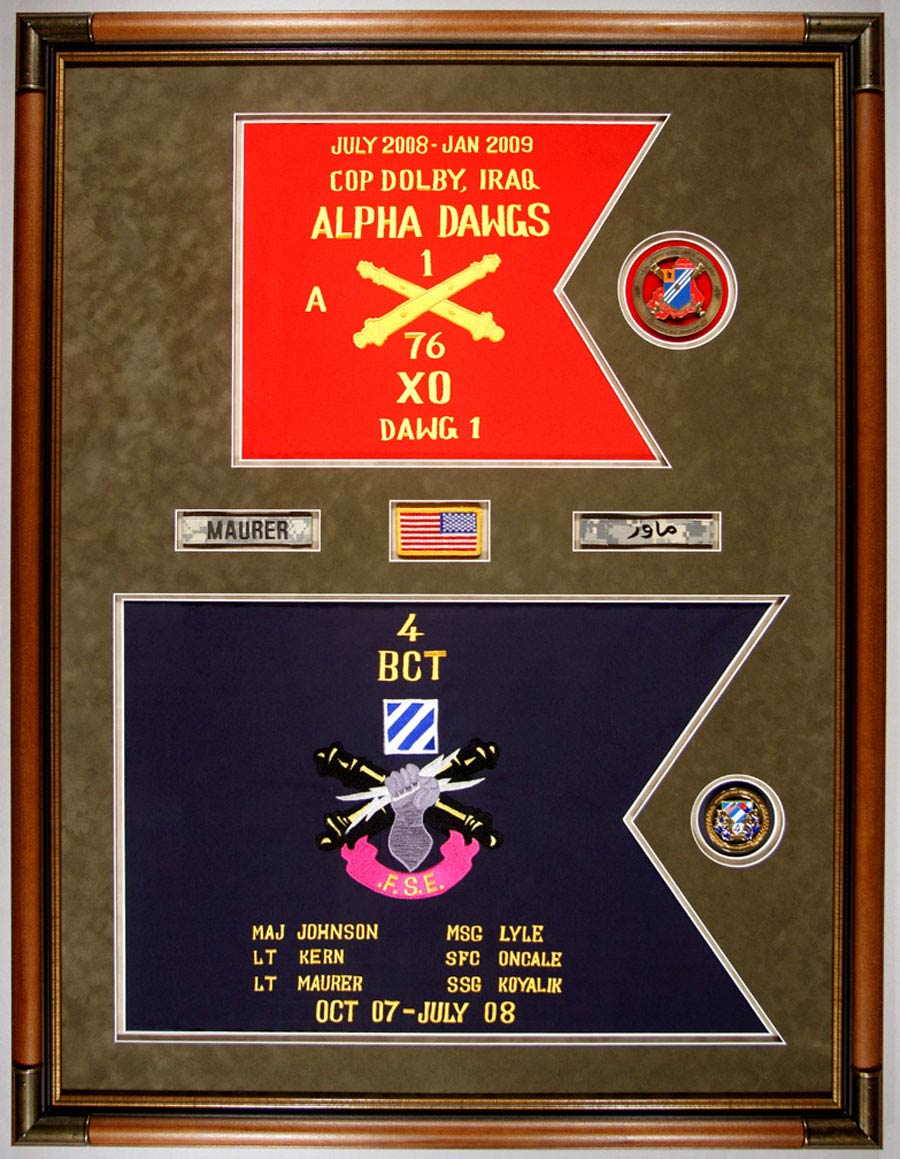 The example on the right is a grouping of guidons. We custom frame a lot of army guidons. This is an example of two guidons framed together. The top guidon is smaller and represents the field artillery for the Alpha Dog Unit. To the right of the guidon, in the swallowtail, is a unit coin. Beneath the top guide on his a name tape in English, an American patch flag, and Arabic name tape. The second guidon is dark blue, and has the commanding officers' names embroidered. To the right of the bottom guide on is a unit coin in the swallowtail. The objects are double matted. The wooden frame used for this project is our most popular wood frame for military framing. The metal corner caps provide a distinctive look to this military frame.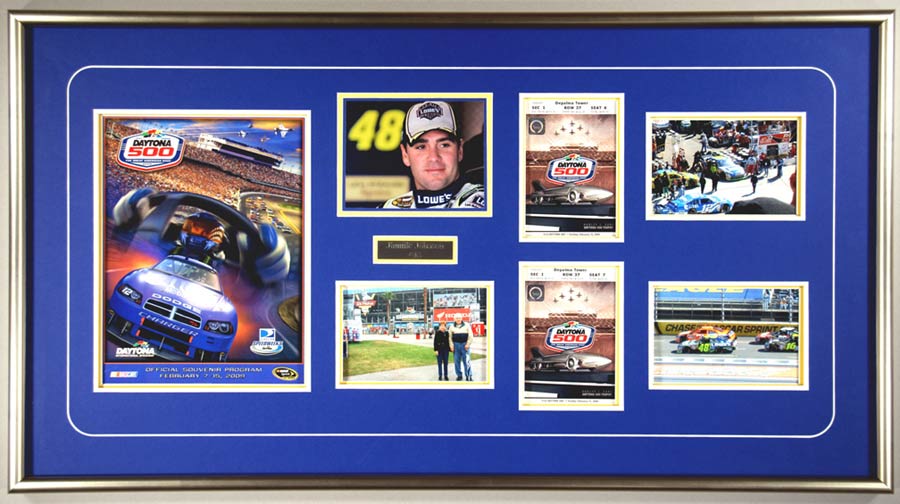 The example on the left is a typical collage for a sports event. We had a client who loved the Daytona 500. She and her husband attended the Daytona 500 and had a favorite racer they pulled for. The example on the left involving the Daytona 500 was done for her. This college example contains a number of memorabilia items from the race. It includes photos, admission tickets, a program, and a custom embroidered nameplate commemorating the date of the race. This collage was designed to keep that day fresh in the mind the client. Our client expressed a desire to include certain items in the collage to be reminded of her fun filled weekend. We are Cindy's Custom Framing & Antique Art, Inc. 10070 Ford Ave, Richmond Hill, GA 31324. We routinely put together shadowboxes for sports memorabilia, jerseys, admission tickets, and other mementos geared toward remembering a sporting event.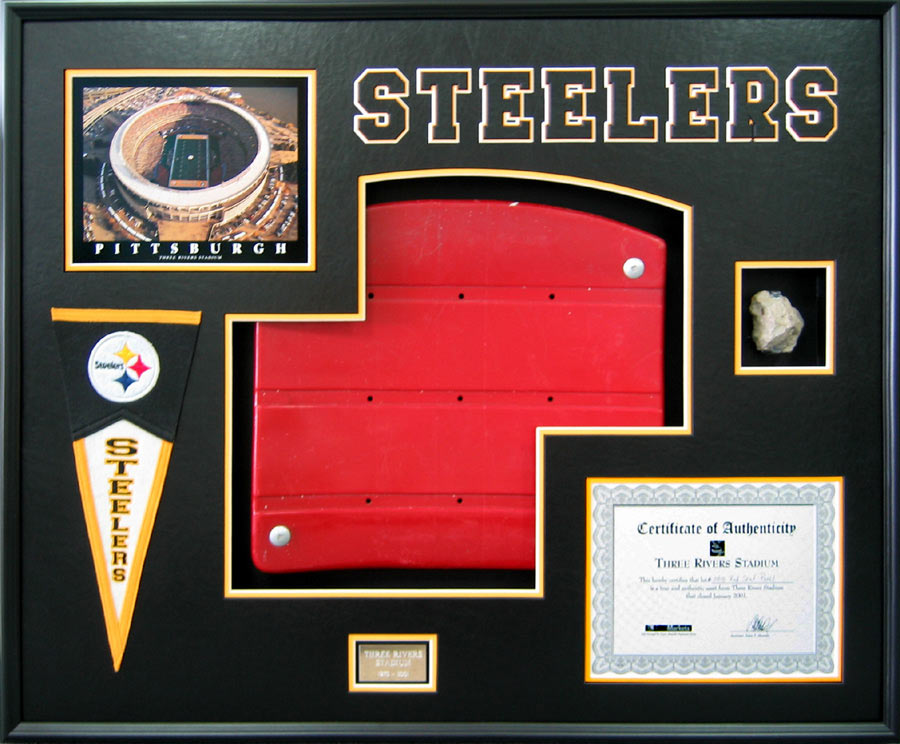 The example on the right represents a client's desire to frame sports memorabilia. Almost everyone has a favorite sports team. And like most sports enthusiasts, they also have a favorite stadium. Traditions are formed and memories are ingrained at different levels of sports entertainment. For some, a stadium seat salvaged from their favorite stadium represents a cherished memory. We custom frame a lot of sports memorabilia. In this case, the sports memorabilia is an actual Pittsburgh Steelers stadium seat. Included with stadium seat is the certificate of authenticity. Custom framing sports memorabilia is our specialty. We're framed items ranging from golf balls to golf clubs. In addition we're framed large arrows and sports jerseys. If you have any questions regarding the framing of sports memorabilia, or desire to create a shadowbox for other types of memorabilia, please contact us. We are Cindy's Custom Framing & Antique Art, Inc. 10070 Ford Ave, Richmond Hill, GA 31324. Our phone is 2781