FAQ
List of Most Frequently Asked Questions
Why should I custom frame something as opposed to purchasing a ready-made frame from a department store?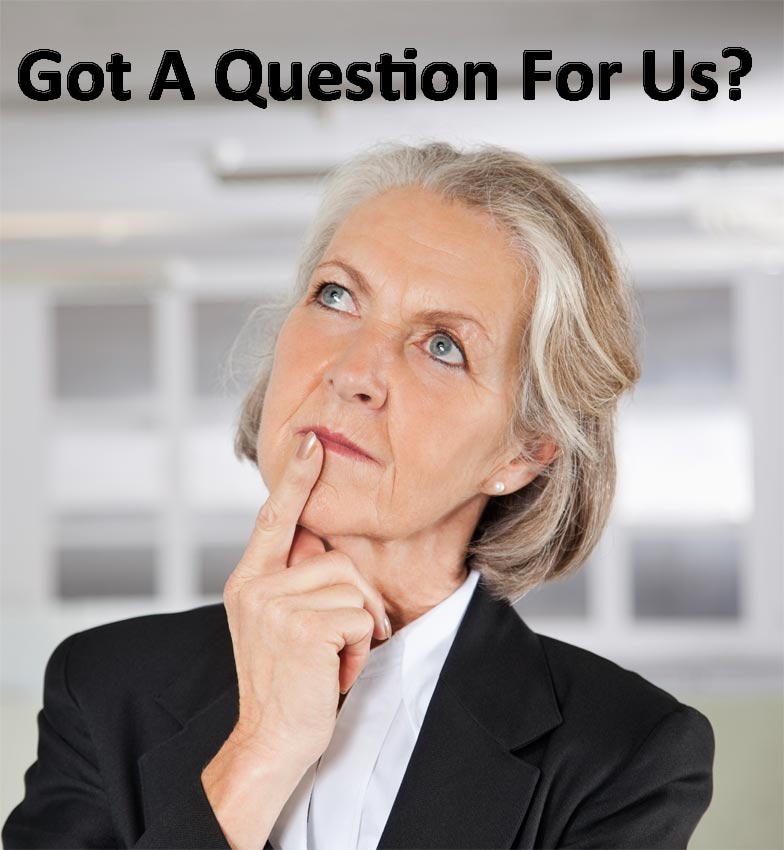 Custom framing involves more than merely inserting a print into a picture frame off the store shelf. Custom framing involves the selection of mats, frames, and the proper arrangement of any objects you wish to frame. It also incorporates the proper UV glazing, archival materials and backing to protect the artwork. A significant advantage to custom framing is it affords the customer the ability to participate in a unique framing design for photos, keepsakes, mementos, certificates, and personal items to suit the client's personal tastes and decor. A significant advantage to custom framing with us is the conservation techniques we use to prolong the life of your artwork and keepsakes.
Do you send your work off or is the framing done on the premises?
All our framing is done in house. Each project is assigned a work order number, which allows us to track the progress of the job and maintain the art or the objects on site. For more information on our custom framing practices and the materials we use, please click on the link at the top: FRAMING
Are there special circumstances that require artwork to leave your shop?
Rarely does anything leave the shop. However, if the need arises, we will discuss it with you first. An example would include digital scanning for photo restoration.
How can I keep a picture from fading?
The best way to keep art from fading is to avoid exposing it "any" form of light. However, people purchase and frame art for the express purpose of displaying it. Our recommendation is to use only 99% UV glass or acrylic which is the highest quality glazing available today.
So how should I display my art?
Avoid exposing art to the harmful effects of light. The most important way to protect artwork is to avoid direct or reflected sunlight from a window or a door, and from indoor lights. Direct sunlight will fade colors in a very short period of time, causing permanent and irreversible damage. Direct sunlight will fade newsprint in hours. In addition, direct sunlight will deteriorate the paper that any artwork is printed on. Another source of damage originates with UV light. Most people have no idea of how damaging the effects UV light can be. UV (Ultraviolet) light is a spectrum of light we cannot see. One source of UV light is in sunlight, either direct or reflected. Another source, one many people never think about, is in fluorescent lights. Exposure to fluorescent lights can fade printed art in a matter of only a few years. Our approach to minimizing the effects of UV light damage consists of using glass or special acrylic glazing designed to eliminate up to 99%t of harmful UV rays. Since it is impossible to screen out 100 percent of the harmful UV light, the best way to prevent your artwork from fading is to avoid direct exposure to sunlight and use UV protective glazing.
Can you clean old paintings and art?
No, that is a service we no longer offer.
Why is custom picture framing so expensive?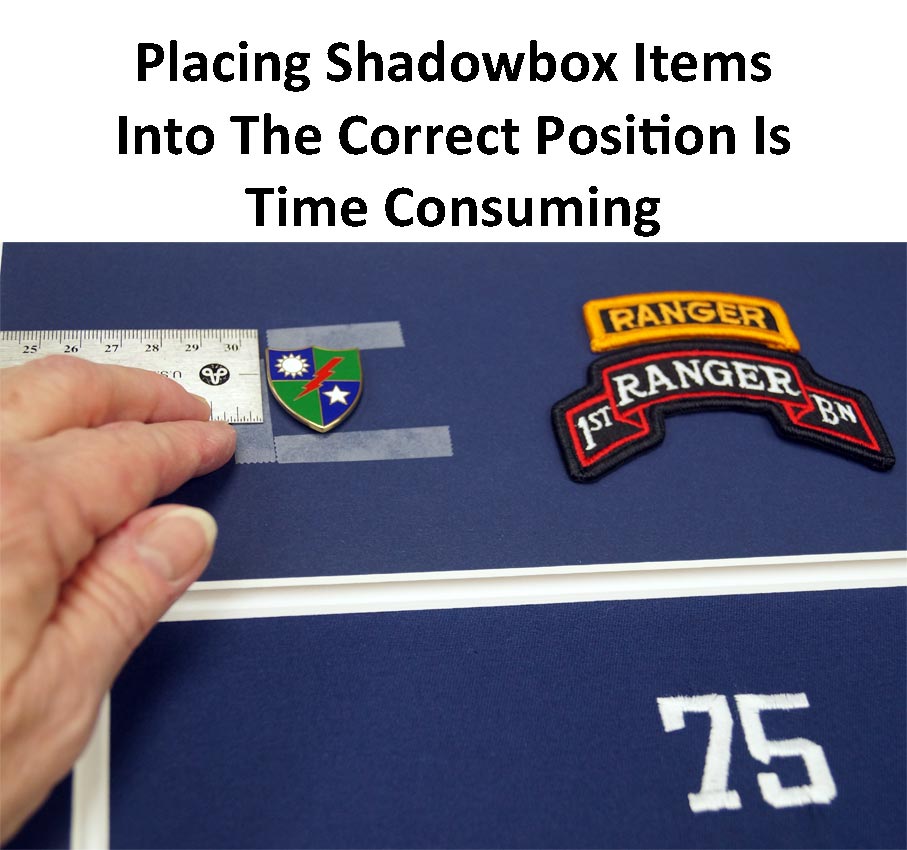 Custom picture framing is not as expensive as most people think. It involves using only the highest quality archival materials the industry has to offer in order to insure your artwork lasts for many years. Frame, mats, and glass purchased from local discount or department stores do not offer the highest quality materials necessary to preserve your art for years. Your beautiful fine art, needlework, keepsakes, wedding invitations, or hard-earned degrees and certificates should be framed in a manner that does them justice, and in a manner that minimizes the deterioration process with time. Your custom framed artwork is a permanent investment in the décor of your home or business and will outlast many of your other accessories if cared for properly.
Custom framing requires the expert skills of trained individuals to design and complete a project that not only protects your artwork, but enhances its appeal, once it is hung on the wall for your enjoyment. Each piece of framed art is a one-of-a-kind creation that you will never see in a department store, discount store, or furniture store. Mat colors, frames, and designs are all selected with the assistance of trained staff that provides the necessary time to create just the right combination to enhance each piece of art framed.
What is conservation framing?
As the term "conservation" implies, it involves various steps in the framing process designed to conserve or prolong the life of your artwork. The process must be totally reversible to be considered conservation framing. By reversible, we mean, the artwork or the objects can be "un-framed" with no damage to the art.
Our conservation framing employs the highest quality archival products available to slow down the inevitable deterioration of artwork taking place as a result of environmental factors. To overcome these environmental factors, we utilize special techniques and procedures to protect art. Generally speaking, the main components of conservation framing involves mounting the artwork in such a manner that it is protected from the influences of acid, shielded from the influences of UV light, and allowed to have air circulation around it, while protecting it from dust. The elements involved consist of the frame, acid free foam board, the UV glazing, acid free mats (if mats are used), if mats are not used, then an archival spacer, to separate the artwork from the glazing, acid free hinging, and archival backing. The mats, foam board, hinging, and backing must consist of 100% acid free material of conservation quality. The hinging is a specialty product that is acid free and reversible with water. Pressure sensitive adhesives are never used on paper. We avoid these, because with time, the adhesive will migrate into the paper and result in damage to the artwork or become loose causing the art to fall. Conservation framing involves a high degree of protection, designed to offer long-term preservation. This method of framing is highly desired for framed art, such as family photos, historic documents, limited edition art, original art, or important memorabilia. There is no denying, that with time everything deteriorates due to environmental exposure. However, conservation framing will slow this process and allow you to enjoy your artwork for many years. To see some of the methods we use for conservation framing, please click on the link at the top to: CONSERVATION FRAMING
Can you protect my family heirlooms?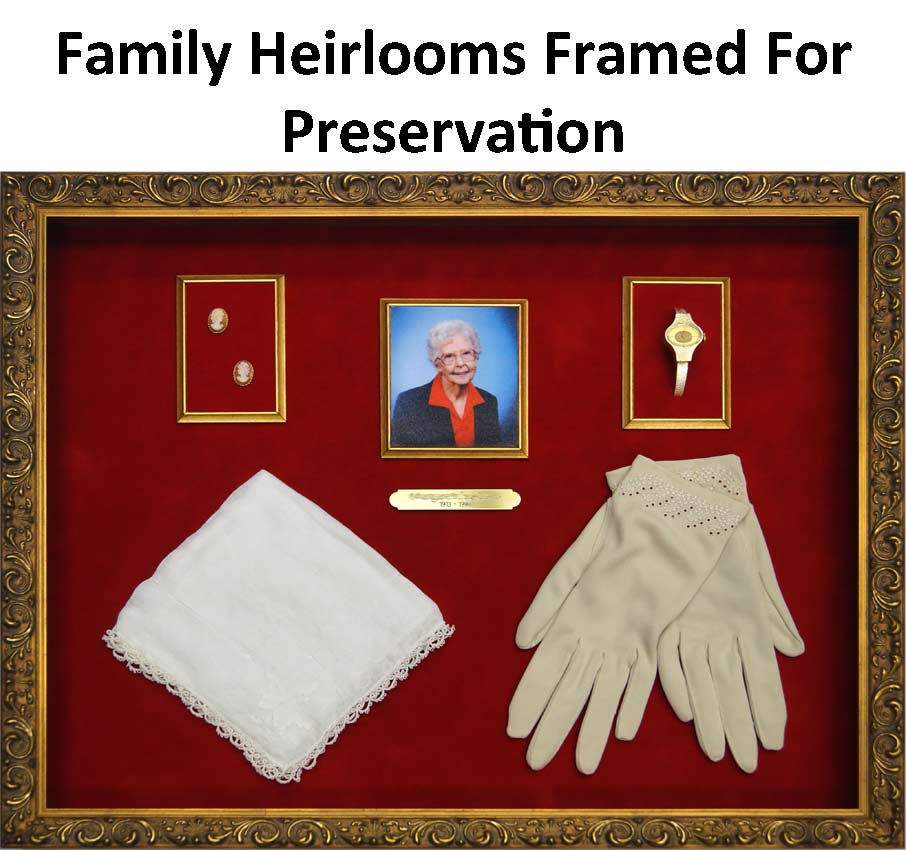 We can protect your heirlooms to a certain extent. First, the protection depends on the materials and the condition of the family heirlooms you want framed. Technically, we slow the deterioration process, but can't reverse any damage which already exists. Our framing process utilizes the best archival materials the industry has to offer. For example, this would include Conservation UV glass or UV Acrylic, which blocks the fading effects of UV light by 99%. We also utilize all acid-free materials, which includes: mats, tapes, foam board and backing paper. Often, an overlooked part of protecting the framed heirloom is the acid migration from the wood frame itself. This migration makes it way to the mats, and then to the heirloom. To prevent this migration, we line the inside of the frame with an archival protective material. Of equal importance in protecting your heirlooms is the manner in which they are handled during the framing process. We handle the items with cotton gloves to prevent the transfer of body oil onto them. We pride ourselves in doing the very highest quality framing. The completed frame must be maintained or displayed in a controlled environment away from direct sunlight, humidity, and intense heat. The proper environment will add many years of longevity to the heirlooms.
Do you sell artwork?
Yes, Cindy's Custom Framing has a wide and diverse selection of art for sale. We offer antique cigar labels, open edition prints, and we sell stretched canvas prints. We also have some prints by local artists.
Do you take in items on consignment to sell?
We only have a limited space available for consignment. However, we offer a few items by local artists in our shop. If you have something that you wish to sell, please contact us. We will discuss our requirements and the commission structure we offer. Feel free to contact us about possible consignment sales.
Do you frame more than just pictures?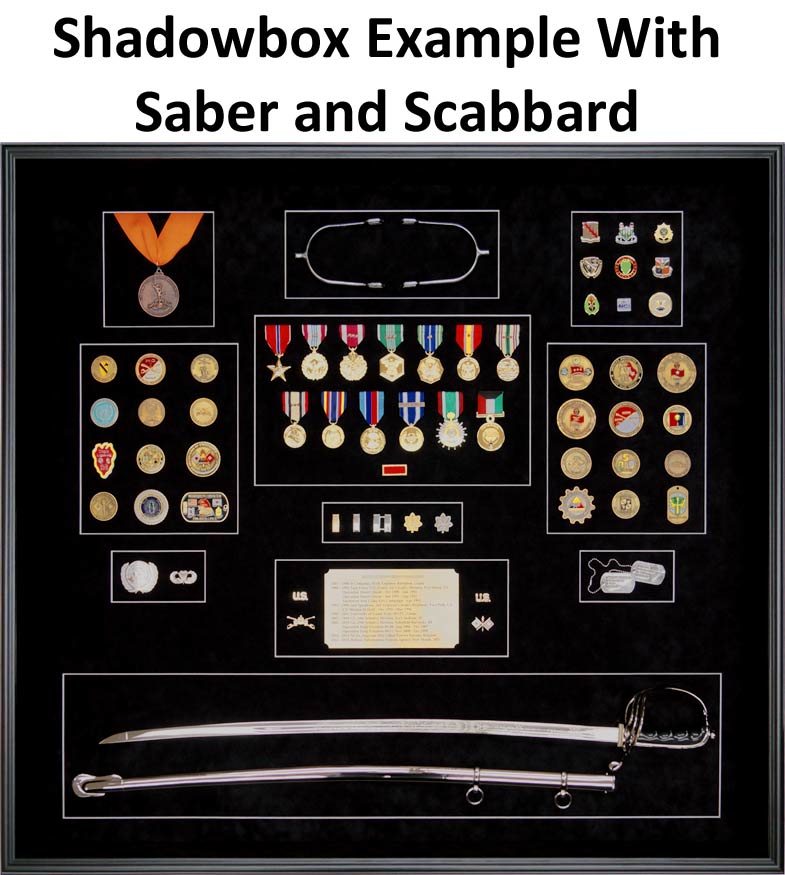 Yes, our shop frames a number of items, ranging from needle art, coins, to military mementos, sports jerseys, and family keepsakes. We frame retirement shadowboxes, diplomas, guidons, medals, flags, battalion colors, and more.
What methods of payment do you accept?
We accept cash, local checks, money orders, American Express, Visa, MasterCard, Debit cards, and Paypal.
What is the turnaround time for framing?
Normally, our custom framing turnaround time is about 4 weeks. We request that much time to ensure the materials that come into us are not damaged. Also, some projects consume a lot of time to complete. For example large shadowboxes can require as much as 40 hours of time to build.
Do you print photographs?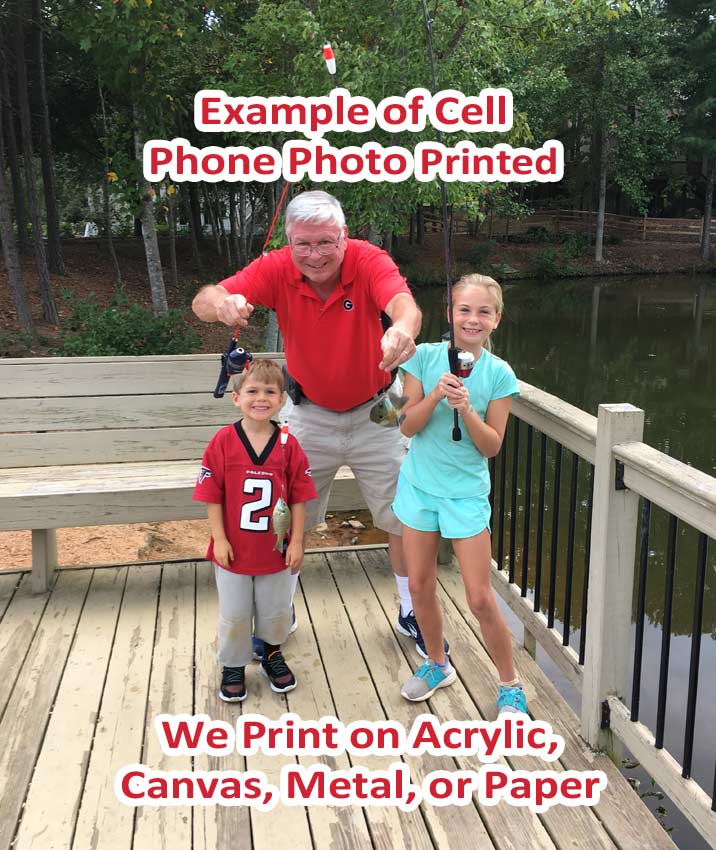 Yes, we offer printing on a number of mediums. We offer printing on acrylic, polished scratch resistant metal, paper, and canvas. The turnaround time for canvas prints is about 3 weeks. Paper printing is about 3 business days. To uploand print from you digital files, please CLICK HERE
If you have additional questions, please contact us and we will be more than happy to assist you. Our shop is located at 10070 Ford Avenue, Richmond Hill, GA 31324 and phone number is 912-756-2781. You may also reach us by email at cindysframing@coastalnow.net