Custom Framing
Custom Picture Framing Is Art and Science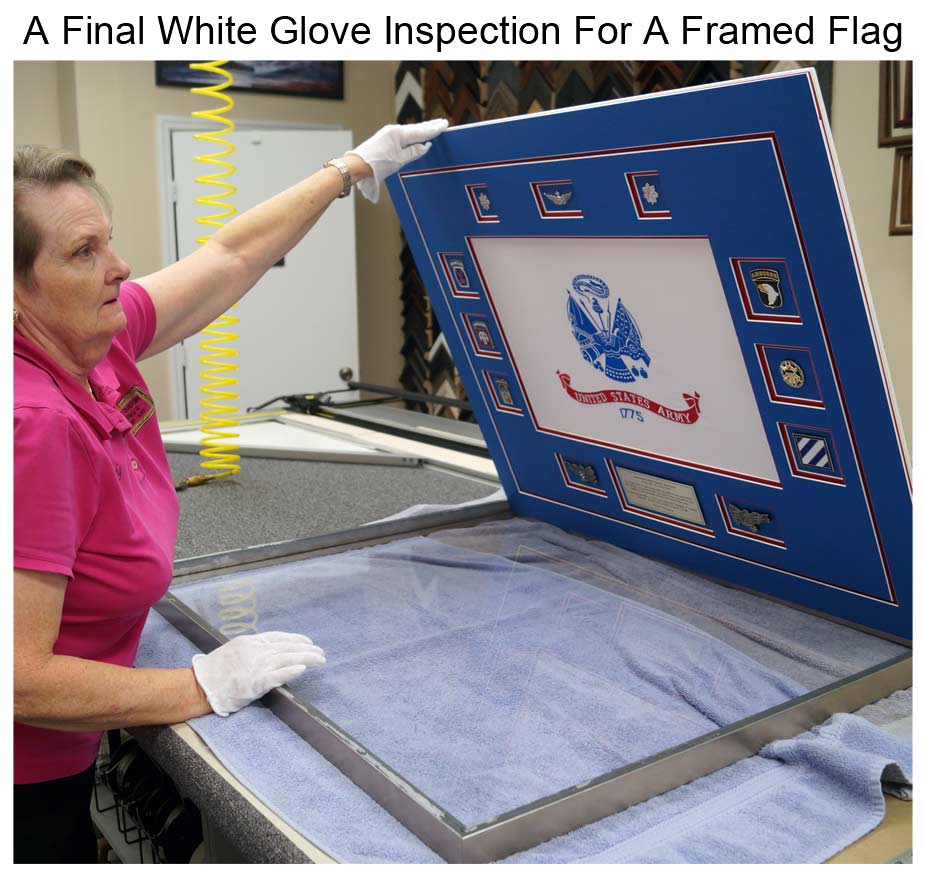 Years of experience taught us a lot about the custom picture framing business. One of the most important lessons learned is the necessity to produce quality products for customers. Quality picture framing can be defined in a number of ways. However, we define it simply as having two basic elements. First, it means not using cheap materials that will damage the customer's art in the long run. Second, it means creating designs that complement the art or the items framed.
Our Primary Business is Custom Picture Framing
Custom picture framing is the main stay of our business. We differ from nationally owned, big box/craft store frame shops in a major way. We work and own our business. In essence, we have skin in the game. It's our name on the back every framed print, shadowbox, framed diploma, framed award, etc., that leaves here. It's not a corporation's name from out of state, where someone you never met on an assembly line, performs a fulfillment service to complete an order. Custom picture framing experience has provided us with comprehensive framing knowledge. Sharing with you what we have learned is part of the framing experience we provide. You will find us helpful and informative, while providing the highest level of quality for the best value. We take our work very seriously, and we want our customers to be happy and satisfied. This is the reason we offer many framing options. Every frame and mat choice option is designed to enhance the beauty of your art.
Rush Orders – Can We Do It?
We typically don't say "no" to an emergency rush order. Occasionally, there are circumstances that require rushing a project. The one that is the saddest, and most unavoidable, is the passing suddenly of a loved one. In those circumstances, we make every effort to accommodate our customers. Other rush orders often entail military PCS gifts or promotions. On a lighter note, it's often the "oops" of a forgotten anniversary or birthday gift. If that's the case, we will do our best to make you look good if time permits!
We carry a number of ready-made frames for those "rush" orders that cannot wait on a custom frame to be created. We also stock a limited number of frame profiles which allows us to provide a quick turnaround for rush projects. Usually a black frame is the most common one we offer for extreme rush jobs.
Turnaround Time To Complete Picture Framing Projects
Most custom picture framing projects require about 4 weeks. This is not simply because of a backlog of orders, but it's associated directly to our high quality standards. Four weeks allows time in the event a frame or mat that that has been ordered arrives with a flaw and needs to be replaced. Also, accidents happen with shippers that result in a delivered product that is damaged. Since we place a high value on quality, we always allow plenty of time in the event something is damaged and needs to be reordered. Our quality standards are stated this way: We won't sell you something that we would not hang on our wall! And we're pretty picky!
The Service of Repairing Damaged Frames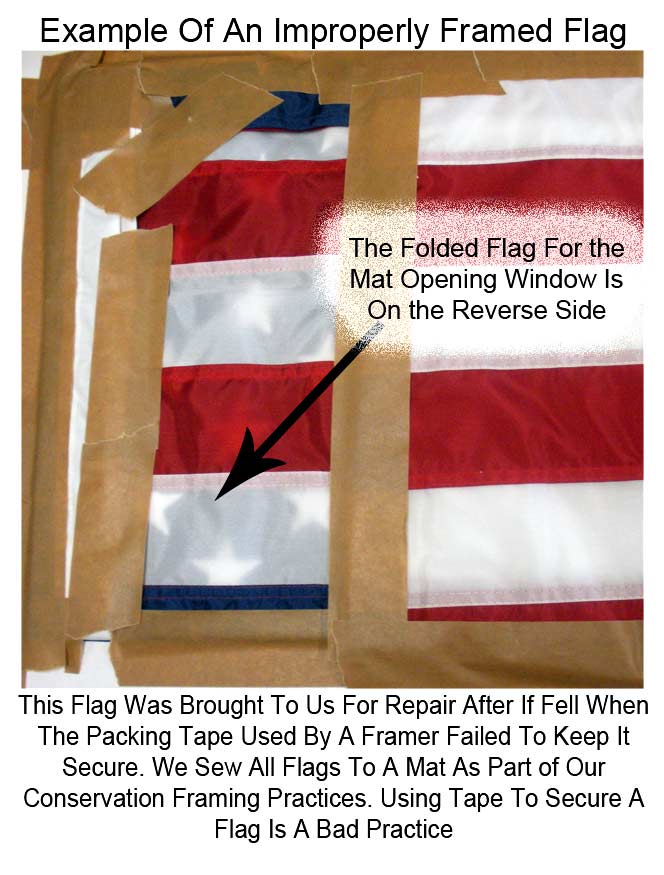 Another one of our custom framing services involves the "repair" of damaged frames. This may include replacing broken glass on a frame that has accidentally fallen. Repairs to frames are done in house. All of our acrylic and glass is 99% UV protected. The glazing is cut on the premises to satisfy our framing projects and repairs. In addition to glass repairs, often a mat may be cut or damaged from broken glass. If it is a practical replacement, we will suggest it. We can also replace damaged backing and provide new hangers for frames.
Mold and Mildew Damage to Art and Frames
Cleaning damaged art is not a service we provide. Also do not send out damaged art to a conservator for repairs or cleaning. Damage from mold or mildew requires special cleaning techniques which we do not offer. We also do not offer art appraisal for antique prints. Art appraisals are not usually free. The internet offers your best hope of finding an appraiser.
Specialized Framing – The Subjects We Frame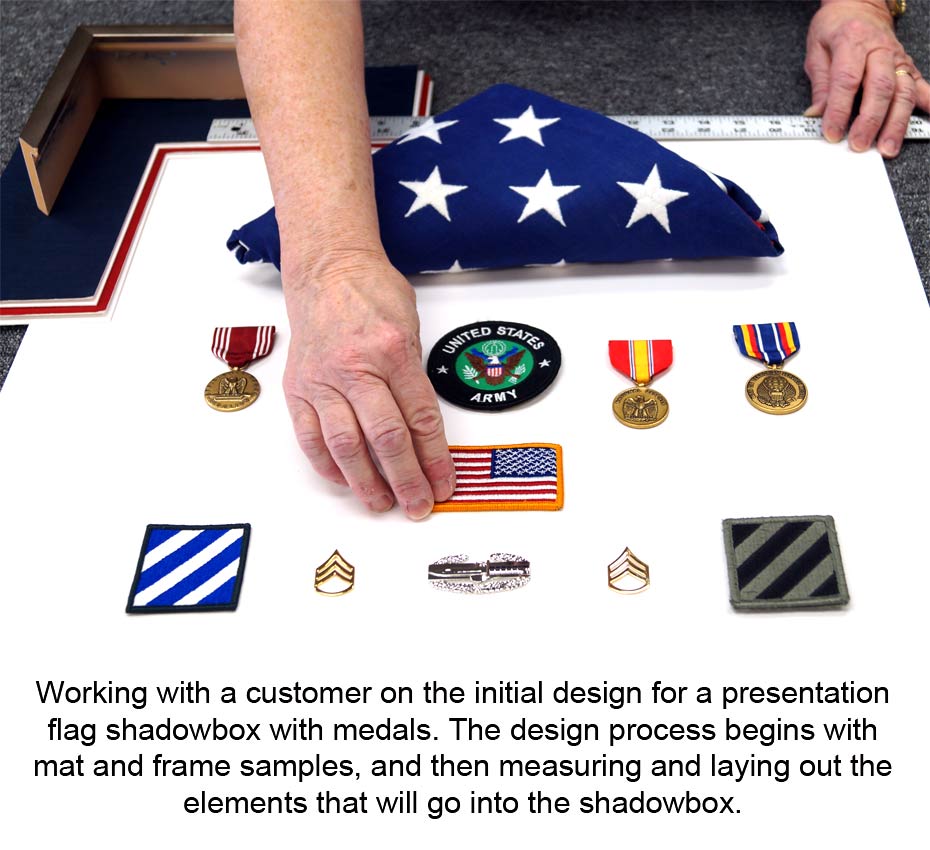 We have devoted a number of sections on this website to explaining some of the specialty services we provide. As a brief overview, we have developed a strong military framing niche. Our military framing includes shadowboxes, flag cases, framing medals, framing awards, framing guidons, framing battalion colors, framing military prints, framing unit photos, and framing other military memorabilia that reflects a distinguished military career. For additional examples of our military framing, you visit our sister site, Framed Guidons, by clicking this link
Nonmilitary framing specialties are also a big part of our business. Our nonmilitary framing includes framing sports memorabilia, nonmilitary shadowboxes, photographs, college diplomas, awards, newspaper articles, magazine articles, wedding announcements, birth announcements, graduation announcements, artwork, children's art, oil paintings, and canvas prints. For needle art or needlepoint, we provide a service for framing it too. Golf flags and nonmilitary flags are framed in a number of styles with mat cut options. All of our flag framing, whether it is military or nonmilitary, involves sewing the flags onto mat boards. Unlike our competitors, our flags are sewn down using a commercial sewing machine that prevents a flag, guidon, or battalion color from sagging or slipping with time. On our sister website, Framed Guidons, we go into great detail about the process of framing flags and guidons.
The Importance of Mats For Custom Picture Framing
We take a unique strategy when it comes to custom picture framing. Custom framing involves more than surrounding artwork or objects with mats, wood, backing material, and glass! Picture framing begins with design. And that design begins with us listening to our customers describe their vision for a completed project. Once we have an idea of what you have in mind, we begin the design. We take our time to design a custom frame that will truly enhance the beauty of the art or objects presented to us for framing. And we take the design process a step further- offering you trust. Trust is an essential element in custom framing. We make every effort to insure the final result of any artwork entrusted to us results in protection against dust, UV light, and acid damage for inferior mats and paper materials. The process of custom framing that safeguards your art is called "conservation" framing. You can learn more about conservation framing from our sister site, Framed Guidons section on custom framing.
Using Mats For Custom Framed Art
Conservation framing also involves the use of mats. A lot of framers will skip placing mats on a picture, artwork, diplomas, etc. They do this to save money by placing glass directly against the item being framed. This practice is taboo. The direct placement of glass onto any artwork, photograph, diploma, etc. will cause moisture to build up under the glass from condensation. The moisture will allow the glass to stick directly to the artwork. The moisture will eventually damage the artwork.
Moisture damage to art is avoidable. Part of the design process involves designing a mat opening that will surround the artwork and allow for an air space, or gap, to separate the glass from the artwork. We begin the mat opening design by using a computer linked to a computerized mat cutter. Beautiful shapes can be created to offer separation from the art.
The Alternative To Mats
If mats are not a practical component in the design, we have an alternative to prevent moisture damage. Acrylic spacers offer the best method of separating artwork from glass where mats are not an option. The spacers will be unseen, but they will provide the necessary air space between the artwork and the glass.
Custom Mat Designs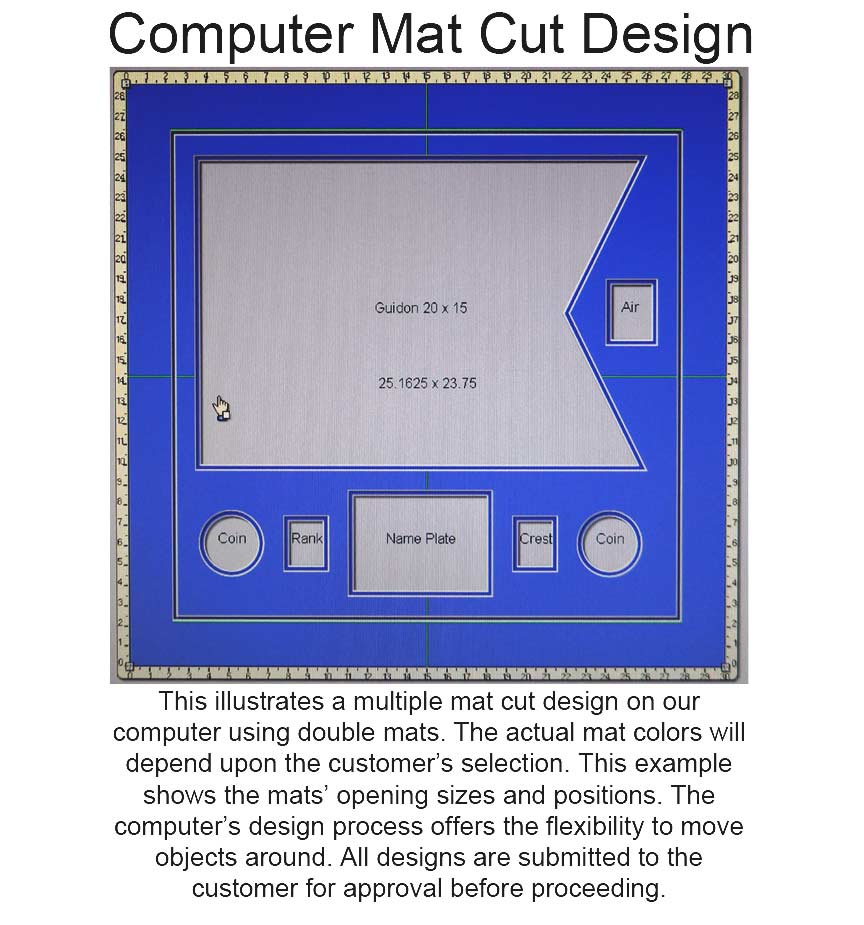 Having a computerized mat cutter affords us a number of design options. For example, we can replace a damaged mat with a similar design. If an aged or faded mat requires replacement, we can match the design. The computerized mat cutter gives us enormous creative power. We are able to produce multiple openings in various shapes and sizes through the use of our computerized mat cutter. This is extremely useful when creating designs for flags, shadowboxes, guidons, and other designs requiring multiple openings, with multiple mats.
Sealing the Frame For Protection
The back of each custom framed piece of art includes (blue) acid-free backing paper to keep out insects and dust. Each piece also has a hanger with plastic coated wire matched to the weight of the framed artwork. Bumpons are placed on the frame to prevent wall damage.
We invite you to visit our shop at 10070 Ford Avenue, Richmond Hill, GA 31327. We will be more than happy to show you examples of how bad framing has damaged art and show you alternatives for protecting your art and memorabilia. Please feel free to contact us at 912-756-2781 if you have any questions, seek a quote, or if we can be of assistance.